"who is malala?" he demanded.
no one said anything, but several of the girls looked at me.
i was the only girl with my face uncovered.
that's when he lifted up a black pistol.
...i am malala.
i spent the past couple of days cramming and cursing the fact that i had three midterms in a two day period.
i dragged myself out of bed every morning and begrudgingly trekked down to campus.
and then i went to my local bookstore and read the first chapter of
i am malala
and instantly felt guilty.
here i was complaining about the one thing that nearly got this little girl killed - pursuing an education.
if you're not too familiar with the story of malala yousafzai, she is a pakistani schoolgirl who at the age of 15, was shot in the head and neck in an assassination attempt while returning home on a school bus.
her crime?
being a girl and wanting an education.
there's a quote that i love that urges everyone to "be a voice for those who can't speak."
through her work with the united nations, malala is doing just that - being a voice for the other millions of girls around the world who are being denied an education.
because as malala simply put it, "we cannot succeed when half of us are held back."

so, the next time i find myself complaining about an upcoming assignment or finals, i will stop and think about how blessed i am to live in a country where i'm not only able but encouraged to pursue an education.

i leave you with malala's first speech at the united nations on her 16th birthday:
(it's quite lengthy but definitely worth the watch)
"let us pick up our books and pens.
they are our most powerful tools."
i also found this image online which warmed my heart: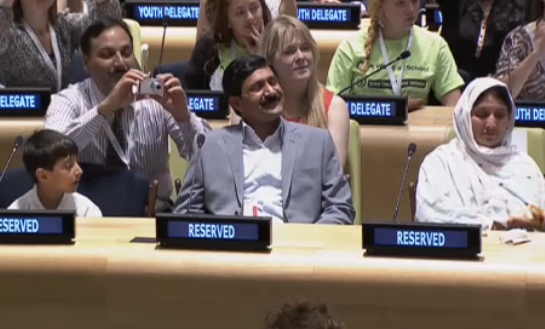 malala's father beaming as he watches his daughter speak at the UN.
:)
vanessa